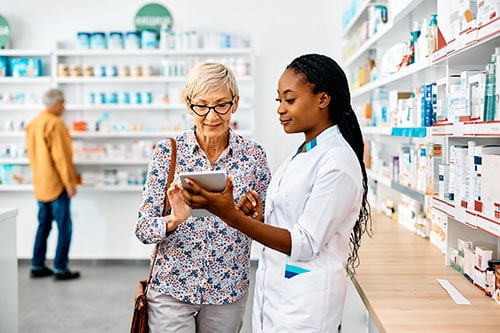 July 10, 2023
How To Advertise Your Pharmacy To Mature Audiences
When it comes to advertising to a more mature population, it's important to consider the unique characteristics and preferences of this demographic. Older adults, typically individuals aged 65 and above, often have distinct needs and habits when it comes to media consumption and information gathering.
Remember to tailor your advertising messages to resonate with this audience. Use clear and straightforward language, focus on the benefits and value your product or service provides, and ensure that any visuals or text are easy to read. Understanding the specific needs, interests, and communication preferences of older adults will help you create effective advertising campaigns that effectively reach and engage this important demographic.
Here are a few effective channels and strategies for reaching and engaging with older adults through advertising:
Traditional Advertising
When it comes to traditional media, older audiences still regularly use newspapers, broadcast, direct mail, and out-of-home advertising. The Boomer generation, in particular, watches more TV than other age groups and continues to consume print media as they always have.
Digital Advertising
Digital media offers near-real-time advantages of analytics, tracking, campaign versatility, and audience-specific targeted messaging. Moreover, senior Americans are increasingly using social media and browsing the Internet on their laptops, iPhones, or iPads, providing opportunities to reach them online. In fact, Facebook is the most useful platform for reaching an older demographic, with 62% of internet users aged 65 and older using it.
Combination Advertising
It may come as a surprise, but the 50-plus demographic regularly uses both traditional and digital communication channels. To effectively market to seniors, a strategic combination of media, such as Facebook, Twitter, Google AdWords, direct mail, and broadcast, can be precisely targeted.
Incorporate On-Hold Messaging
Older consumers are likely to engage with your pharmacy over the phone. This means you need a strong on-hold messaging strategy. When callers are put on hold, they become a captive audience, and you can leverage this opportunity to communicate informative messages about your products, new services, and current promotions.
At Rx Message On-Hold, we specialize in providing customized phone messaging services that engage and motivate callers to take action, which can ultimately help drive sales and reduce hang-ups for your independent pharmacy. With our services, you can turn hold time into a potential sale.
If you're interested in getting started with our services, please contact us today to learn more.
"*" indicates required fields