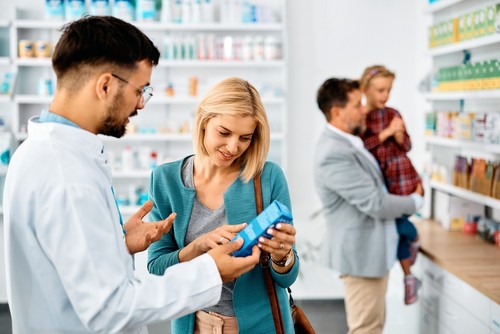 June 8, 2023
How To Market Your Pharmacy to Families
Young families are a key demographic for pharmacies to target. By bringing in new households, you can establish a long-term relationship with them to last through their child-raising years and beyond.
If you do not have a marketing plan in place to target families, there are steps you can take to move in the right direction.
Feature Over-The-Counter Baby Products
Parents with young children are often short on time and having necessary items easily accessible can make their visit to your pharmacy more enjoyable. Make sure to stock a range of OTC medications for infants and young children, and include items like diapers, wipes, and rash creams to create a one-stop shop for busy parents.
Once your baby section is established, it is important to be attentive to parents who may have questions or concerns about their child's health. Even a small gesture of empathy can go a long way in building trust with frazzled new parents who may be overwhelmed.
Reach Out To Service Providers
Connecting with professionals in your area, especially pediatricians, family physicians, and daycare providers, can be beneficial. Like pediatrician offices, daycares in your area can be a great way to connect with young families. Consider offering health and wellness tips during back-to-school or cold and flu season, and providing parents with a packet of information about your pharmacy and services, including your ability to flavor medication.
Offer Family Events
Your pharmacy can invite families in through special activities like craft-making for children, toddler story time, or even holiday-themed events. To attract more families, make sure to schedule these events during kid-friendly hours, such as early mornings or late afternoons.
You can also consider organizing an event in the community, such as supporting a local 5k or school fair by reaching out to the local PTA groups or other community organizations. This will give you an opportunity to engage with potential customers and show off your personality and services. Remember to offer something memorable to those who attend, such as lollipops or branded trinkets.
Include On-Hold Messaging
Special events, medicine flavoring, and more can be promoted through on-hold messaging. When callers are put on hold, they become a captive audience, and with the right messaging, parents will have a positive first impression of your pharmacy.
At Rx Message On-Hold, we specialize in providing customized phone messaging services that engage and motivate callers to take action, which can ultimately help drive sales and reduce hang-ups for your independent pharmacy. With our services, you can turn hold time into a potential sale.
If you're interested in getting started with our services, please contact us today to learn more.
"*" indicates required fields