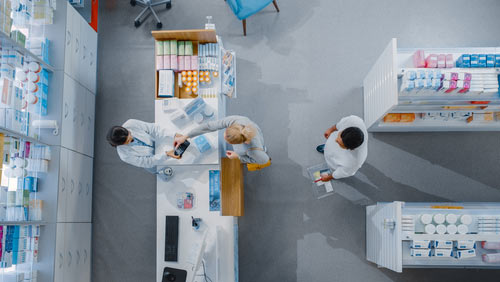 September 11, 2023
Optimizing Your Pharmacy Layout for Maximum Customer Benefit
You may be wondering how to best design your space for your customers. Whether you are a building a new store or simply want to improve the layout of your current space, there are some key factors to consider.
We've collected some of the important things that will impact your pharmacy's layout.
Choosing The Right Workflow
When designing your pharmacy, it's important to choose a workflow that works best for your business. Two common options are "Linear" and "Pass to the Middle." Your workflow decision will guide the placement of cabinetry in your pharmacy. Your choice will depend on factors such as your pharmacy software system and how busy your pharmacy is.
A"Pass to the Middle" approach can allow you to prioritize your main bench for filling and verification, while data entry can be done in the back of the store, at the register/drop off, or remotely. If you're opening a pharmacy and aiming to reduce tech hours, you might want to consider a "Linear" workflow. With this approach, technicians and pharmacists take on multiple roles, such as dispensing, data entry, and handling the register.
Planning for Additional Services
If your pharmacy provides services beyond retail, it's important to plan accordingly. For example, if you offer dose packaging or automation, where will these services be located? It's also essential to consider whether your pharmacy may offer additional services in the future. Planning ahead will make it easier if you plan to offer drive-thru service, compounding, and more.
Include Space For Waiting Customers
A waiting area is essential for any pharmacy and should be more than just a few chairs. Consider finding a space next to the "Pick Up" area for a comfortable and inviting waiting area. Adding amenities such as a TV and complimentary coffee can significantly improve the customer experience in your pharmacy. Waiting for medications can be tedious, but with a welcoming waiting area, patients can relax and wait for their prescriptions with ease.
Prepare Customers For Change
Existing pharmacies undergoing renovations will want to alert customers to new layouts. In-store signage and on-hold messaging can provide the right information to visitors. On-hold messages allow callers to learn about changes made along with any specials or promotions. When callers are put on hold, they become a captive audience, and with the right messaging, parents will have a positive first impression of your pharmacy.
At Rx Message On-Hold, we specialize in providing customized phone messaging services that engage and motivate callers to take action, which can ultimately help drive sales and reduce hang-ups for your independent pharmacy. With our services, you can turn hold time into a potential sale.
If you're interested in getting started with our services, please contact us today to learn more.
"*" indicates required fields